VRay Mental / Mental Ray support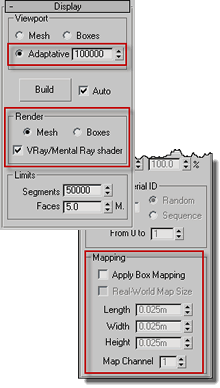 Added geometric shaders for VRay and Mental Ray, letting you to render a huge number of high-poly objects using minimal resources:
Create massive railing and structures over paths as long as kilometers.
Objects are converted on the fly to native render instances.
The geometry is generated dynamically inside the camera frustrum (VRay only).
VRay Proxies and mr Proxies are supported.
Note: See Rendering Best Practices to learn more about the geometric shader and how to optimize your scenes to use it efficiently.
Display
A new Display rollout has been added:
Configurable "Boxes" mode for Viewport and Render.
Adaptative mode. Use "Boxes" mode on viewport if the number of faces specified is exceeded.
"Boxes" display mode is more accurate respect to the full geometry.
Render mode: Automatic mode uses native instances for VRay or Mental Ray. Meshes mode creates a unique mesh for the geometry.
Build button and Max.Faces and Max.Segments parameters have been moved from the General rollout here.
Other features
CPU Multi-core support. Global performance have been improved.
Randomness->Mapping Coordinates. Avoid texture tiling, applying box mapping to the Segments along the path.
Added Max 2012 support.
Fixes
Fixed geometric issues when applying both random rotation and scale.
Bevel works properly on splines with collinear vertices.
Geometry->Copy From/To works properly on RailClone objects with modifiers.
Fixed minor Library Browser issues.
(http://www.itoosoft.com/img/gallery/railclone/sbridge2.jpg)
(http://www.itoosoft.com/img/gallery/railclone/sbridge1.jpg)